GAPsi is on Building C4, Level 1, Room 4.1.25 (under the Library).
Opening hours
Opening hours

| | |
| --- | --- |
| Mondays | 9.30 am - 1 pm / 2 pm - 4 pm |
| Tuesdays | 9.30 am - 1 pm / 2 pm - 4 pm |
| Wednesdays | 9.30 am - 1 pm / 2 pm - 4 pm |
| Thursdays | 9.30 am - 1 pm / 2 pm - 4 pm |
| Fridays | 9.30 am - 1 pm / 2 pm - 4 pm |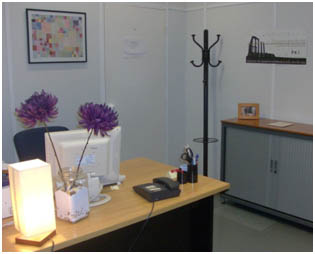 Cost per appointment
Cost per appointment

| | |
| --- | --- |
| Scholarship holders | 2 € |
| Non-scholarship holders | 4 € |
| Postgraduate students | 6,5 € |
| Staff | 12,5 € |
If you're interested, please contact GAPsi:
In person, during opening hours;
Call 217 500 435 directly, or the Faculty number (217 500 000, ext. 24 125): Leave a message with the psychologist who takes your call, or on the answering machine (please state your name, name of the person you are trying to reach, what it is about, and your contact);
E-mail gapsi@ciencias.ulisboa.pt;
Leave a written note in the GAPsi mailbox (only GAPsi psychologists have access to it).
Appointments must be booked in advance, whenever possible.
Clinical Activity
Treatment is our main activity. This office has been operating for several years, and the importance of its work is cherished by the FCUL population. Consultation sessions are provided every day of the week, trying to satisfy the numerous requests for appointments, in a timely manner.
What can we help with?
Anxiety (regarding student evaluation or other contexts)
Low academic results
Difficulties in adapting to college
Emotional issues
Relationship issues
Sleep disorders
Sexuality issues
Social isolation
Phobias and panic attacks
Depression
Low self-esteem
Career guidance
Other problems
How do we work?
After an initial talk, we conduct an interview to assess your problem, goals, and the kind of help you require. You'll also be asked to complete one or more psychodiagnostic test.
Since we cannot satisfy all the requests we get at once, you may have to be placed on a waiting list for some time after this initial session.
Once consultation sessions have begun, the type of intervention depends on the particular problem and the kind of help sought out. It may take on different forms:
Brief and specialised counselling on a relatively delimited and identified personal problem or issue (such as having to make a decision);
Longer-term psychotherapy, for other problems of a clinical nature. In this case, there will be weekly individual consultations (lasting approximately 50 minutes);
Work focused on academic issues within the field of psychology of learning (such as time management and activity planning).
FAQ
Can I choose the psychologist?
At GAPsi there are psychologists from both sexes so that if a person feels the need they can have an appointment with someone in particular. However, we guarantee that all psychologists have adequate training to assist any person.
Who is going to know?
One of the main worries by GAPsi staff is guaranteeing confidentiality for its clients. We want this to be a space where a person feels comfortable and safe.
And what if my schedule isn't compatible?
In exceptional cases we may make an appointment outside of our normal working hours so that the person can be seen.
Who can go to GAPsi?
GAPsi is a service provided by FCUL and it is available to all students (undergraduate, master's, PhD and post-graduate), academic staff and other staff from the institution that need some kind of specialised support.
Can I register someone that I think needs help?
GAPsi only receives appointments made by the person requesting the service and does not accept appointments on behalf of third parties. It intends to have people come willingly and not feel forced by a third party. However, we can raise awareness for the latter regarding the need for specialised help.
Are my problems big enough for me to seek help?
Each person has their very particular life story and therefore the impact that certain moments have on a person's life are not the same in another person's. Each individual is received as the human individual they are and not in comparison with everyone else.
And what if it's a simple matter, as for example, taking a decision?
Psychology can render other services beyond psycotherapeutic counselling, including the response to problems or personal questions that are relatively delimited or identified. Thus, GAPsi can also help with simple questions and more direct services such as helping take decisions.