Tec Labs – Innovation Centre
It's the place where all the technology-based entrepreneurship related initiatives happen in the Faculty of Sciences of the University of Lisbon. We exist for almost 30 years and since then we've been supporting and promoting the economic and knowledge transfer within the Faculty.
We believe in innovation, rigor and collaboration. These ideals inspire our vision of a society that values the knowledge created in the university environment.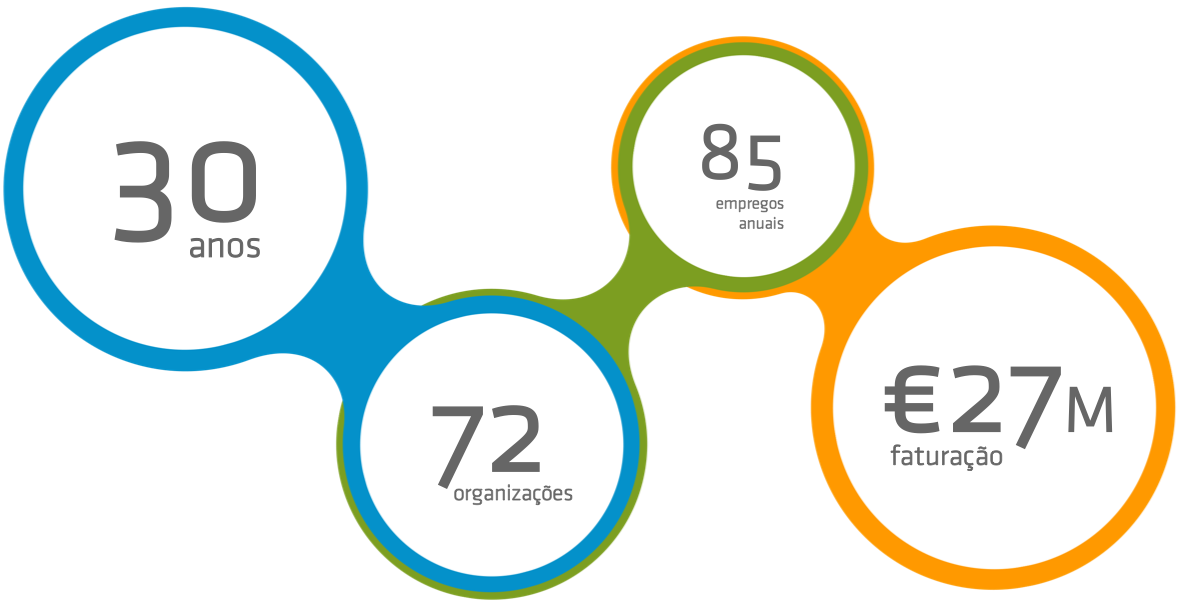 ScienceIN2Business
Tec Labs - Innovation Centre developed ScienceIN2Business®, an innovative methodology that encourages and supports the economic valorization of the scientific and technological knowledge in higher education institutions and research centers.
The methodology is based on annual cycles so it can settle and spread exponentially covering an increasing number of students, teachers and researchers.
Each cycle is divided into three stages, designed in a sequential logic, interdependent and replicable: Learning, Selection, Evolution.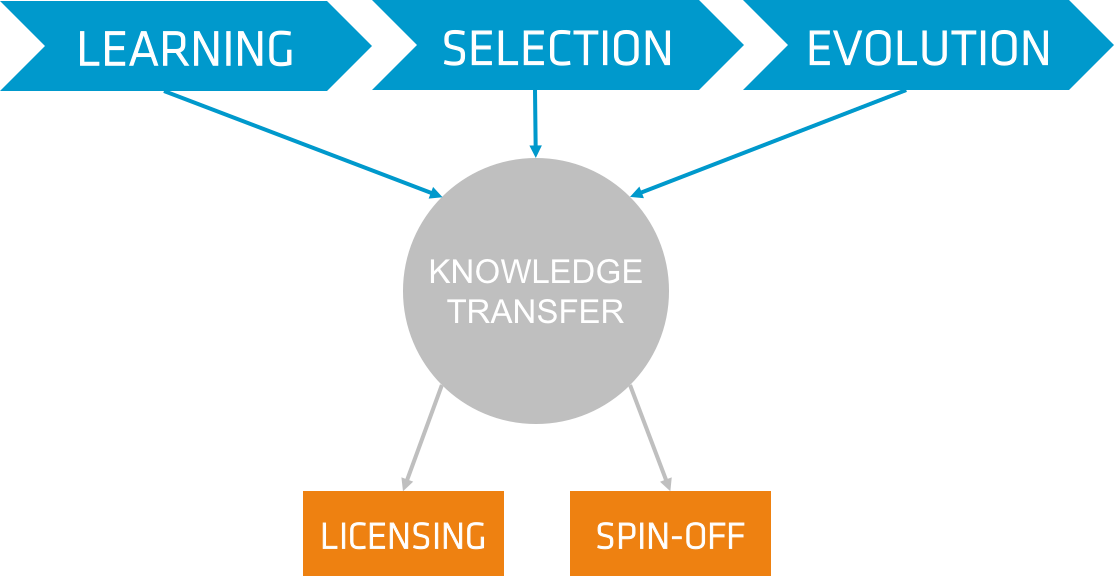 The Learning stage includes formal and non-formal education, which will prepare the students, teachers and researchers with most fundamental entrepreneurial topics: entrepreneurship, management, industrial property, finance and communication.
Formal Education
1st Cycle
"Entrepreneurship in Science"
Through strategies based on Learn by Doing methodologies and a diverse set of tools, students will explore entrepreneurship based on innovation as a mean to promote the valorization (economic and social) of the scientific and technological knowledge generated in this campus.
The creative and disruptive thinking, based on methodologies of Design Thinking, will be stimulated and teaching outside the classroom will also be promoted by exposing students to the real world through meetings and visits to different realities.
Also through Story Telling and by sharing success and failure stories in the 1st person will allow the students to have contact with the Portuguese startup scene and with the way in which these people use innovation and knowledge in their paths. This practice will inspire ideation and problem solving challenges. Additionally, students will develop their management, personal and soft skills during the process, which is relevant to their personal and professional development.
2nd Cycle
"Innovation and Entrepreneurship"
The main goals of this course are to incorporate the knowledge and concepts of the principles and methodologies of innovation as well as the fundamental basis of entrepreneurship as a source of economical value. Thus, a taboo-breaking approach is initially pursued in order to discuss relevant topics in today's society such as innovation, intra- and inter-entrepreneurship, self-employment generation and professional and personal technical-scientific and management tools. In parallel, a historical perspective of the evolution of these issues in Portuguese academic environment is also presented.
Within this scope, comparison with more developed societies is also used both as a stimulus and a reference for concept consolidation. Learning is done via direct experimentation and K2B projects included in the syllabus are the election tool to achieve the overall objectives of the course.
"Business Project"
Optional course of the 2nd semester in which students of integrated master and master programs can apply. The course is a partnership between FCUL and ISCTE-IUL and has the objective of developing scientific projects in a business context through the formation of multidisciplinary teams of finance and science students.
3rd Cycle
"Entrepreneurship"
"Entrepreneurship, Innovation and Technology Transfer"
These curricular units focus on the knowledge and the main methods of innovation and entrepreneurship. It uses knowledge transfer tools and techniques as a way of generating economic value out of the daily generated academic knowledge. Learning is done via direct experimentation and the K2B project's development included in the syllabus are a tool to achieve the overall objectives of these subjects.
Depending on the option chosen by the student, the number of deliverables and evaluation points to be delivered during the semester are adapted.
Non-formal education
A package of workshops on fundamental entrepreneurial topics designed for students, teachers and researchers (more information/applications).
"Introduction to Entrepreneurship" | Date: March 14th 2019 | Time: 6pm to 10pm (4 hours) | Location: Tec Labs Auditorium | Speaker: Bruno Santos Amaro (Tec Labs - Centro de Inovação)
A workshop that aims to capacitate the participants to the basic concepts of entrepreneurship in its various forms and to present which are the main skills of an entrepreneur. On the other hand, the workshop will intend to present the main methodologies associated with entrepreneurship initiatives and to analyze the Portuguese startup scene, highlighting the acceleration and incubation of new businesses. Finally, the workshop will have an inspirational moment with some successful entrepreneurs.
"From the idea to business" | Date: March 21st 2019 | Time: 6pm to 10pm (4 hours) | Location: Tec Labs Auditorium | Speakers: Bruno Santos Amaro and Rita Tomé (Tec Labs - Centro de Inovação)
With this workshop we aim to present and work around the concepts of creativity and ideation and then to advance along the paths of the methodology of Design Thinking as a model to create value.
On a second moment, the workshop will focus on the stage of the business model construction highlighting two crucial themes: value proposition and business model. To do so we will use the business model canvas tool and some other associated tools. It will be a very practical and hands on workshop.
"Industrial Property" | Date: March 28th 2019 | Time: 6pm to 10pm (4 hours) | Location: Tec Labs Auditorium | Speakers: To be confirmed soon
The entrepreneur must be prepared for the battles he has to fight, from the moment he has the idea to the day that his product or service is marketed. For these battles you have to equip yourself with the means and knowledge that will allow you to anticipate and solve in your favor all the challenges that you will have to face.
All challenges have a legal component that is fundamental to anticipate. Many projects are lost and many teams are thorn apart because not all legal aspects were properly considered.
This workshop will address legal issues related to the various stages of an innovative and entrepreneurial project, from the moment the idea comes to mind to the later marketing efforts.
"Financial plan and financing sources" | Date: April 04th 2019 | Time: 6pm to 10pm (4 hours) | Location: Tec Labs Auditorium | Speaker: To be confirmed soon
This fourth workshop aims to contribute to the development of basic skills needed for the complex process of financial management of an entrepreneurial project. It provides the participants with basic knowledge on the tools to build a solid financial plan. On the other hand, we will have a brief overview of the main sources of funding for entrepreneurial projects.
"Communicating a business idea" | Date: April 11th 2019 | Time: 6pm to 10pm (4 hours) | Location: Tec Labs Auditorium | Speaker: Rita Tomé (Tec Labs - Centro de Inovação)
This last workshop intends to make a brief introduction to the science communication subject, emphasising two main topics: how should I communicate my business to investors, clients and media, and how can I promote it using growth hacking and digital marketing strategies.
In the Selection stage we open an internal call in which the best 10 projects are selected, leading to a final event where the three technologies with the greatest market potential are rewarded.
Besides receiving a prize money, the three winners of the previous stage enter the Evolution stage, an annual acceleration program involving a selection of mentors fitted to the needs of each project.