Advisory Board
FCUL has created the Advisory Board to tackle issues related with students with Special Educational Needs. The Advisory Board is comprised of a representative of the Faculty Board, the President of the Education Board, a representative of each of the Faculty Departments, a representative of the Students' Association, and GAPsi. The Advisory Board collaborates with department representatives in this area, thus forming a large work group.
The Advisory Board has advisory, not decision-making, powers: established to monitor and follow up on the different issues that concern students with this status.
The Advisory Board for Students with Special Educational Needs aims to:
Centralise information pertaining to students with Special Educational Needs;
Assess what the specific needs of these students are;
Negotiate solutions for problems that may emerge;
Set up faster and more efficient communication channels between these students, academic staff, the Departments, the Faculty Board, and other Faculty services.
Develop initiatives that may contribute towards improving these students' conditions at FCUL;
Disseminate information useful to students and other FCUL bodies or agents;
Provide support for disabled students;
Support academic staff in the difficulties they face in framing and executing the goals envisaged in the Students with Special Educational Needs Statute;
Help academic staff with other issues related to students with Special Educational Needs.
Advisory Board for Students with Special Educational Needs
President

Guiomar Evans
Margarida Cruz

President of the Education Board

Luís Narciso

Department of Animal Biology

Rita Zilhão

Department of Plant Biology

João Calvão Rodrigues

Department of Geographic Engineering, Geophysics and Energy

Fernanda Diamantino

Department of Statistics and Operational Research

Francisco Fatela

Isabel Nunes

Department of Informatics

Cristian Barbarosie

Department of Mathematics

Margarida Botte

Department of Chemistry and Biochemistry

Cláudio Pina Fernandes

GAPsi - Psychological Support Office

Luís Borges

President of the Students Association
Students with Special Educational Needs - Special Statute
Students with Special Educational Needs have the right to inclusion in academic life and regulations are a way to guarantee the access to equal opportunities. At the lack of Ministerial specific legislation for Higher Education, FCUL published its internal regulation in 1999, being one of the first institutions of higher education to do so. Thirteen years later, on May 12, 2012 was published a regulation for all Lisbon University, as the result of joint work between the different schools of the university.
With the merger between University of Lisbon and Technical University of Lisbon, the current Regulation of Student with Special Educational Needs from University of Lisbon arises, published on 11 May 2016. This document is complemented by a specific regulation of the Faculty of Sciences, published on November 21, 2017.
University of Lisbon Internal Regulation for Student with Special Educational Needs, approved by Ordinance No. 6255/2016 of 11 May.
FCUL Internal Regulation for Student with Special Educational Needs, approved by Ordinance No. 10069/2017 of 21 November.
Scholarships for Students with a Disability Degree Equal to or Greater than 60%
Students with a disability equal to or greater than 60% may apply for a scholarship corresponding to the amount of the tuition fee. In order to obtain the scholarship, students must:
Attest the degree of incapacity through a medical multipurpose certificate of disability;
Having the tax situation regularized.
The application process is done through an online form, after accreditation.
Ordinance approving the regulation of this scholarship
This scholarship is independent from normal scholarships awarded by the Social Services of the University of Lisbon. You can apply for both scholarships.

Workroom
There is a workroom in the Central Library, Building C-4, specifically aimed at students with disabilities. It has some support furniture and equipment adapted to their needs. The equipment that is currently available for student use is as follows:
One scanner;
One A3 printer;
One Braille Everest printer;
Paper for Braille printer;
40 characters of Braille per line;
Two CCTVs (text magnifier);
One Page Turner;
One programmable Trackball;
One INPROMAN interface;
Intellikeys Concept Keyboard;
Three computers equipped with specific software for blind or visually impaired students (Screen Reader with Speech Synthesizer; Screen Magnifier; Overlay Marker; OCR; GRID);
Terminals with internet access;
Lockers;
Working tables.
In addition to this permanently installed equipment, FCUL has supported the purchase of complementary material for its students over the past few years. This includes Braille lines, laptop computers, hearing aids, audio recording devices, and wheelchairs.

Teacher support resources
GAPsi provides direct support to teachers on aspects related to SEN students and their specific characteristics. Complementary documentary resources are provided below, with the aim of promoting a quick access to information about SEN and may be useful in aspects related to academic experience.
Watch the Video presentation.
Providing Psychological and Educational Support
GAPsi's main responsibility is psychological and learning support which is also provided to students with disabilities in an attempt to give a more targeted response to certain questions with some specificity, as a result of the students' experience in an academic context.
Integration issues are also sometimes associated to entering higher education, with the change to a new place of study, the alteration of the networks of support created during secondary education, the increasing requirements at the level of study associated to less personalized learning, etc. In this case, GAPsi aims to intervene in order to promote student integration so that it is effective and satisfying.
Support Network for Students with Special Educational Needs

The Faculty of Sciences is one of the schools that integrate the Support Network for Students with Special Educational Needs - Lisbon University. The faculty works actively in the promotion of full success of ULisboa's Students with Special Educational Needs, trought diffrent practices. Theses practices include: identifying, spreading and consolidating the "best practices", sharing resources and improving the attendance conditions and the academic success of SEN students.
There is a site of this netwok (Support Network for Students with Special Educational Needs – Lisbon University), where you can get useful information and resources - http://redenee.ulisboa.pt.
GTAEDES - National working Group to support Students with Disabilities in Higher Education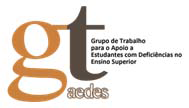 The GTAEDES (National working Group to support Students with Disabilities in Higher Education) includes public higher education institutions and has the mission to provide a better service to students with disabilities; fostering closer links between services that help these students; facilitate the exchange of experiences; develop joint initiatives and sharing resources.
BAES - Open Library of Higher Education
The Higher Education Students with Disabilities Work Group (GTAEDES) has organised a series of actions to improve the conditions and participation of disabled students in higher education. One such project was BAES - the Open Library of Higher Education.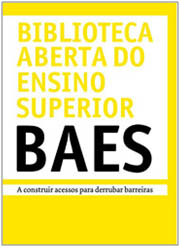 BAES is a virtual library, where you may find the entire e-document collection that Portuguese higher education institutions have been assembling over the past years. The project of "creating access to bring down barriers" uploads documentation from all member institutions to the internet, granting any student belonging to an institution that has joined this protocol access to this online information. BAES is a project funded by POS-Conhecimento.
What is the Open Library of Higher Education?
It is a library with online contents (http://baes.up.pt). It results from a partnership between nine state-owned higher education institutions and articulates three broad areas: the production, access and sharing of information.
What are the Open Library's contents?
The Open Library has a collection of over 3,000 titles in braille, audio and full text formats. BAES is an ongoing project. Currently, you may find contents in the field of the Social and Human Sciences. Our short-term goal is to encompass Mathematics, Music and Chemistry; and to increase the number of titles in these key fields. Our mid-term goal is to introduce new fields of knowledge.
Production of information
Boasting properly-equipped production units, we are working to increment our production (e.g. study materials) and diversify the available formats, at the same time that we extend our production to cover new fields of knowledge.
Access to information
Each institution has new access points to information, granting users access not only to BAES but to other specific resources too (bibliographic and multimedia).
Sharing of information
We collect and share content online, granting users direct access to full texts.
How may I access this information?
Since BAES is dedicated to students with Special Educational Needs, those interested in accessing these materials must apply at a member Faculty for credentials. Because we upload the full version of texts on our website, this is a means of protecting copyrights, which apply differently in the case of students with Special Educational Needs.
Member contacts
U. Porto: saed@letras.up.pt | UTAD: certic@utad.pt | U. Minho: gaed@reitoria.up.pt | U. Aveiro: difusao@doc.ua.pt | U. Coimbra: atped@dtp.uc.pt | U. Lisboa: div.alunos@reitoria.ul.pt | FLUL: saa@fl.ul.pt | FCUL: gapsi@sa.fc.ul.pt | U. Évora: nae@uevora.pt