Results of the "Todos pelo IPO" campaign
From November 2022 to January 2023, on the campus of Campo Grande and in the East building of the Astronomical Observatory of Lisbon, in Tapada da Ajuda, we were able to collect and donate more than 5.5 tons of waste, including lamps, cartridges and toners, batteries and batteries and various electrical and electronic equipment.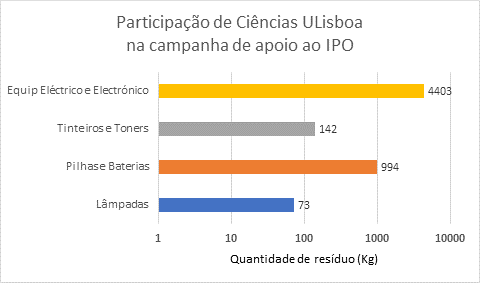 Poorly deposited waste is a problem for the environment and human health. As they degrade, pollute the air, soils and waters with toxic components harming ecosystems and the health of all of us.
With this campaign, we contribute to the IPO mission and above all, we help protect the environment and give new life to our waste.
Waste Production Indicators
As a major producer of waste similar to Urban Solid Waste (USW), Ciências annually produces around 250 tons of unsorted waste and 130 tons of recyclable waste. Per capita, they correspond annually to approximately 40 kg of unsorted waste, 5 kg of paper, 3 kg of glass, 2 kg of packaging and 8 kg of organic waste, integrated in CML's collection circuits.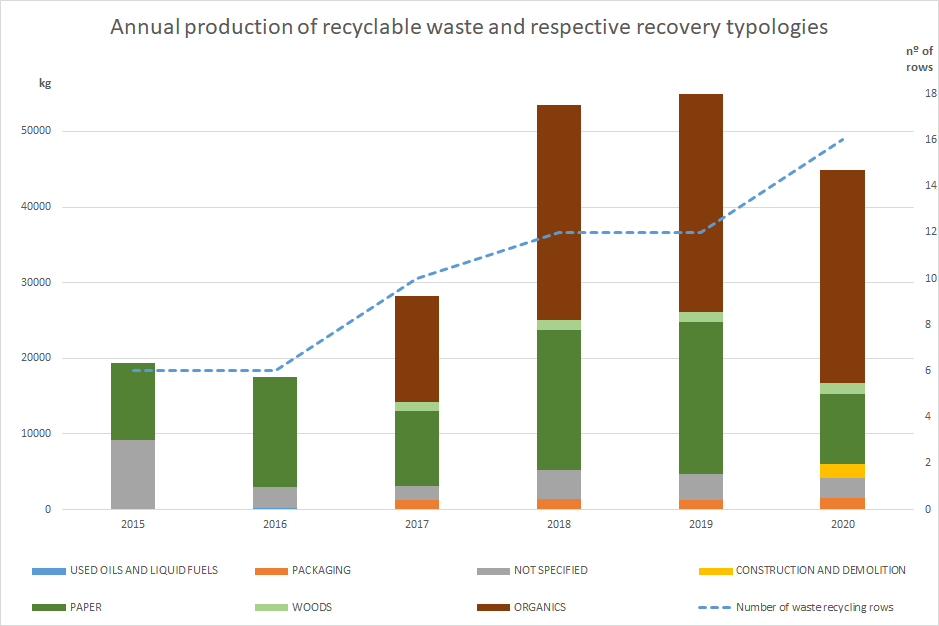 Ciências has been making an effort to recycle its recyclable waste, increasing and diversifying internal recovery circuits, through the establishment of protocols with licensed operators or, in the case of organic waste, through the development of composting processes (garden waste ) and vermicomposting (food waste).
The graph shows the evolution of the production of recyclable waste, forwarded through dedicated circuits to licensed operator, by type of waste, as well as the investment made by Ciências in increasing the number of recycling rows from 6 rows in 2015 to 16 in 2020.
In general terms, it appears that the amount of waste has increased over the years, which is due not to an overall increase in waste produced in Ciências, but to the increase in the fraction of waste that can be sent to licensed recycling operators and/or enhancement and for composting and vermicomposting processes.
Dedicated recycling circuits
It has been possible to increase the recycling rate by placing outside ecopontos in strategic areas of the campus and also by placing small ecopontos inside buildings.
Dedicated recycling circuits

| | |
| --- | --- |
| | |
Ciências ULisboa values recycling
Plastic recycling campaign in partnership with Valorsul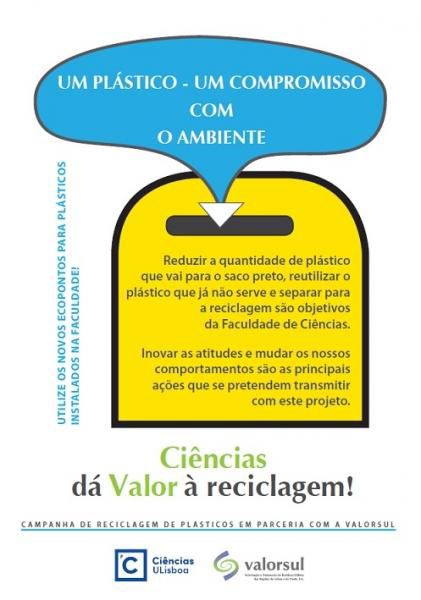 Blue Ecoponto - paper and cardboard
Cardboard boxes, magazines and newspapers, writing and printing paper
Do not place plastic bags, polystyrene, dirty paper, silver paper, vegetable paper, paper with plastic, waxed paper, stickers
Green Ecoponto - glass packaging
Bottles, jars
Do not place empty bottles of chemical reagents, dishes and ceramics, flat glass and glazing, crystals and mirrors, lamps
(Location: underneath the east bridge between the C1 and C8 buildings, and another in the C2 car park, opposite the Minicampus)
Yellow Ecoponto - plastic and metal packaging
Plastic packaging, beverage cartons, cans, plastic bags
Do not place empty packages of chemical reagents, paper and cardboard, household appliances
Ink cartridges and toners
Boxes for collecting used inkjet and toner cartridges in the following locations:
C1 Building – Near IT Services
C2 Building – 2nd Floor east, near women's toilet
C6 Building – 1st Floor in front of the administrative core
C8 Building – 6th Floor, near the DQB room 8.6.33
TecLabs Building – Floor 0, next to the stairs
Fluorescent and discharge lamps
Under the nascent bridge between the C1 and C8 buildings, there is a container from AMB3E for placing fluorescent and discharge lamps. If you also have lamps in your home that you want to dispose of, you can bring them and deposit them in the container.
Used oils
The Faculty periodically routes waste mineral waste oils (including pump oils). Users must deliver to the waste collection point outside the 1st floor of Building C1 on Thursdays between 10.45 am and 11.15 am.
Batteries and accumulators
Boxes for the collection of batteries and accumulators in the following locations:
C1 Building – 2nd floor, west atrium
C2 Building – 2nd floor, east atrium
C4 Building – G3S, room 4.1.26
C5 Building – 2nd floor, near the Surveillance Central
C8 Building – 2nd floor, administrative support
Tec Labs Building – Floor 0
MARE Building – Stairs between 1st floor and floor 0
Users can also request the collection of batteries and accumulators by e-mail.
Waste from electrical and electronic equipment
The Faculty periodically routes waste electrical and electronic equipment (WEEE). Users can request the collection of WEEE by e-mail.
Composting and vermicomposting



Annual compost production
Average values ​​for 2018, 2019 and 2020:
28 tons of processed garden waste
11.2 tons of fine compost produced
Annual vermicompost production
Average values ​​for 2018 and 2019 (2020 was not considered due to the closure of bars and restrictions associated with the COVID-19 pandemic):
1.3 m3 of processed kitchen / bar waste
0.9 tons of vermicompost produced
Hazardous Waste
Ciências ULisboa takes an active role in preserving a healthy environment through the application of good environmental practices, the transfer of knowledge in this area and the awareness of employees, students and visitors. A correct waste management is, besides a legal imposition, an obligation of a Science School.
More information available at Resíduos (only in portuguese)
Annual production of hazardous waste, sent to licensed operator (values ​​in kg).

| Typology | 2015 | 2016 | 2017 | 2018 | 2019 | 2020 |
| --- | --- | --- | --- | --- | --- | --- |
| Hazardous liquid waste | 1969 | 1619 | 2437 | 2982 | 10180 | 2596 |
| Biological solid waste | 2311 | 1682 | 2233 | 4865 | 4063 | 3575 |
| Chemical/specific solid waste | 461 | 607 | 413 | 1174 | 2043 | 3278 |