From 05 February 2021 onwards, authentication will be carried out on a page similar to the figure above. The change of the login page is a very occasional event, always preceded by an announcement by official channels, and no further change is expected in the coming years.
Besides the new look, the page reinforces the security of the current authentication process and accepts the use of 2 authentication factors (2FA), namely the Citizen's Card and the Digital Mobile Key. Although the use of the classic login and password is still possible, the use of authentication through the Citizen's Card or the Digital Mobile Key is strongly recommended because the authentication process is more secure.
The new page maintains the mechanisms already in place to ensure the authenticity of the page. The page presentation is easy to copy and should never be considered as a proof of authenticity. The real authentication page will always be signed by the Faculty of Sciences, which can be confirmed, cumulatively:


by the address (id.fc.ul.pt);


by the use of the https protocol (as opposed to http);


by the validity of the page signature, confirmed by the browser through the presentation of a padlock (or equivalent) and by not presenting alerts about its credibility.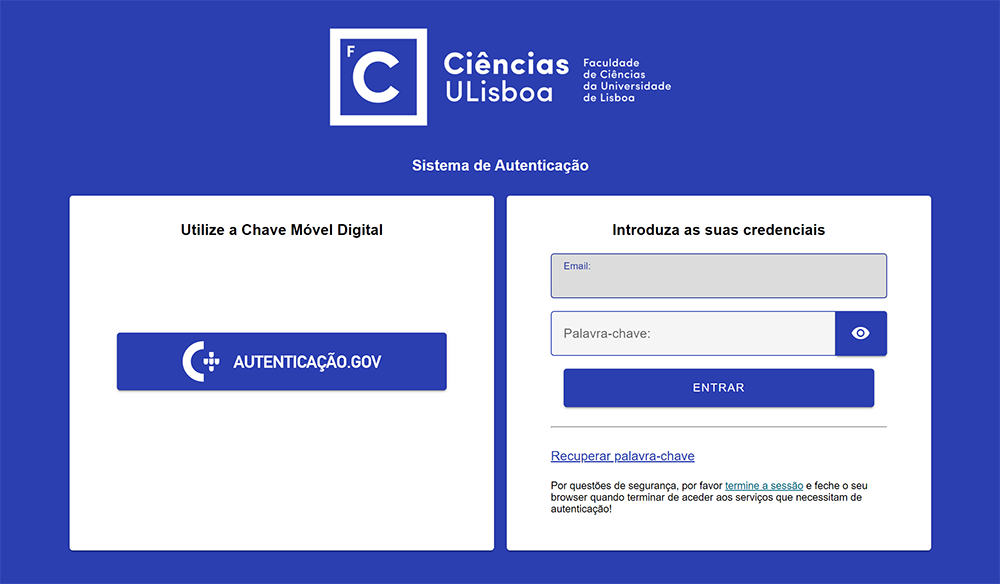 Authenticate yourself with your Digital Mobile Key (CMD)
The preferred and safer method of use, particularly in shared environments (laboratories, multi-person spaces, etc.);
Some future services may be accessible only by CMD;
Can't remember your password? This problem is a thing of the past when you use the CMD;
Access via login/password is still possible, although it is less recommended.
How to activate the CMD?
The CMD can be activated in any Citizen's Shop (Loja do Cidadão) or on any computer with Internet access with a Citizen Card reader. The PIN provided in the letter accompanying the Citizen Card is also required. You can also activate the CMD at the IT Services Unit (DSI) of Ciências. To do so,
You should go to the premises of DSI (room 1.2.10), by appointment, and bring your Citizen's Card (CC), your mobile phone and the PIN provided in the letter accompanying the CC.
If you are unable to login by CMD but have no problem doing so by login/password, please contact DSI (suporte@ciencias.ulisboa.pt).