O programa científico do RV Polarstern incluiu a avaliação das características óticas do oceano e uma missão de treino, uma vez que no cruzeiro seguiam vários alunos do Partnership for Observation of the Global Ocean
AWI
"Estou de volta a terra depois de uma experiência fantástica e intensiva durante a minha travessia transatlântica."
Mara Gomes, aluna Ciências ULisboa
Mara Gomes, aluna do 2.º ano do mestrado em Ciências do Mar participou no cruzeiro oceanográfico RV Polarstern em junho passado, sob o lema "Changing Oceans – Changing Future".
"Mara Gomes teve a dupla experiência de participar como cientista e de ensinar os alunos do programa POGO", conta Vanda Brotas, professora do Departamento de Biologia Vegetal e investigadora do polo de Ciências ULisboa do Centro de Ciências do Mar e do Ambiente (MARE).
A participação de Mara Gomes neste cruzeiro foi financiada pelo projeto Portwims, que tem o MARE como instituição proponente e é coordenado por Vanda Brotas.
O RV Polarstern pertence ao Alfred Wagner Institute for Polar Research (AWI) e percorreu o Atlântico, desde as ilhas Malvinas (também chamadas de Falkland), no Atlântico Sul até Bremerhaven, uma cidade alemã situada na margem esquerda da bacia do rio Weser.
O programa científico do RV Polarstern incluiu a avaliação das características óticas do oceano e uma missão de treino, uma vez que no cruzeiro seguiam vários alunos do Partnership for Observation of the Global Ocean (POGO).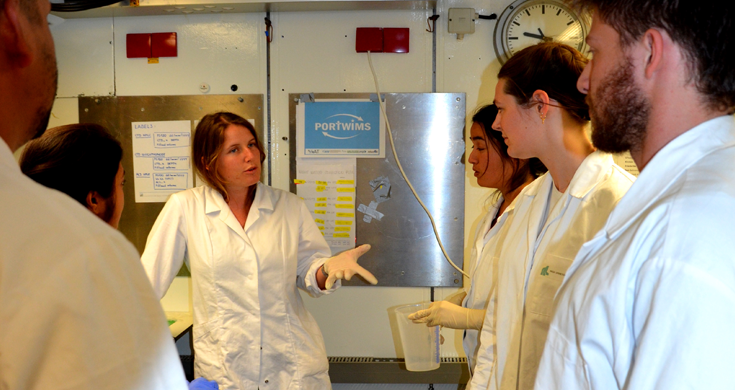 ACI com DBV Ciências ULisboa
info.ciencias@ciencias.ulisboa.pt