Para Amélia Pilar Rauter, presidente do Departamento de Química e Bioquímica de Ciências ULisboa, "o evento foi brilhante"
ACI Ciências ULisboa
"Este evento foi brilhante! Envolveu cerca de mil mulheres químicas de todo o país, demonstrando a dedicação e mesmo a paixão da mulher portuguesa pelas Ciências Químicas", comenta Amélia Pilar Rauter, presidente do Departamento de Química e Bioquímica (DQB) de Ciências ULisboa, que coordenou o Global Women's Breakfast em Portugal.
"Será Portugal uma exceção? A tradição das mulheres na química em Portugal" foi o tema da palestra proferida por Ana Mourato, bolseira do DQB Ciências ULisboa, no campus de Ciências ULisboa, no passado dia 12 de fevereiro, durante um dos 150 pequenos-almoços organizados em 44 países.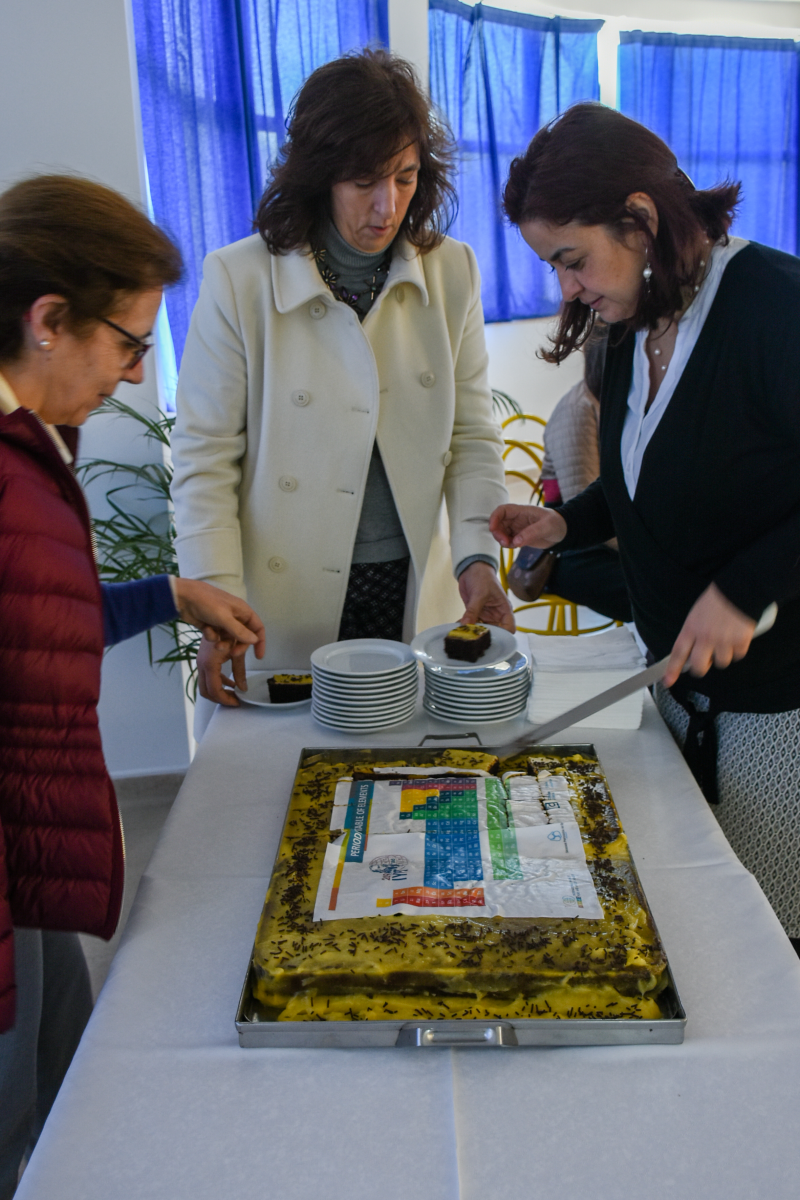 Cinquenta químicas de Ciências ULisboa, acompanhadas por Lídia Santiago, vice-presidente eleita da Ordem dos Engenheiros e fundadora do Grupo das Mulheres Engenheiras, estiveram em rede com 15 instituições do ensino superior em Portugal. O evento contou ainda com a intervenção de Maria José Calhorda, professora do DQB Ciências ULisboa, que realçou as químicas notáveis que conheceu durante o seu percurso académico.
Esta iniciativa integra a celebração do Ano Internacional da Tabela Periódica (IYPT2019) e do centenário da International Union of Pure and Applied Chemistry (IUPAC) e "pretende estimular o contacto, a nível nacional e internacional, de mulheres que vivem a Química", conclui Amélia Pilar Rauter que tem a professora Branca Edmée Marques (1899-1986) como sua inspiração. "Foi uma grande cientista!", diz.
Após esta iniciativa, antecedida pelo Flash Mob Tabela Periódica Humana de Ciências ULisboa no dia da abertura oficial do IYPT2019, estão já programadas duas tertúlias: a primeira a 10 de Abril, pelas 15h00, com cientista Raquel Gonçalves Maia, cuja palestra tem o título "Mendeleev - Uma página para a eternidade" e na qual serão lançados alguns livros de sua autoria; a segunda a 9 de maio, pelas 15h00, com o cientista Miguel Castanho, que irá proferir a palestra intitulada "Da Tabela Periódica à Bioquímica: uma reflexão química sobre a vida e a sua origem".
Álbum no Facebook
DQB com ACI Ciências ULisboa
info.ciencias@ciencias.ulisboa.pt