The COVID Testing Centre of the Faculdade de Ciências da Universidade de Lisboa (CT Ciências ULisboa) is a research and development infrastructure currently entirely dedicated to the mitigation of COVID-19 through the screening of the SARS-CoV-2 virus and immunological testing.
CT Ciências ULisboa is also involved in several initiatives for the development of new diagnostic methodologies and support for economic recovery, as well as the development of structural measures for the monitoring of emerging zoonoses, i.e. diseases or infections that can be transmitted from animals to humans.

This infrastructure represents one of several investments of the Faculty in its contribution to the national effort in the fight against the COVID-19 pandemic, a result of the multidisciplinary participation of its various centres and departments. It also has a high potential for future research where similar safety conditions are required.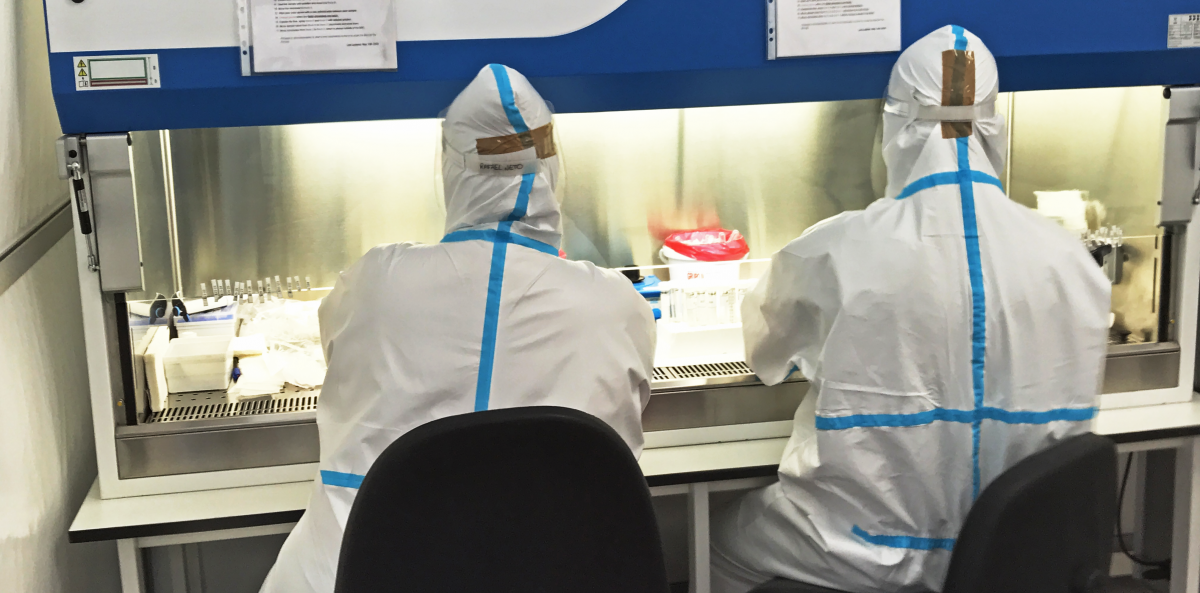 Located in the Tec Labs building, it started operating on 1 May 2020. It is certified by the National Institute of Health Dr. Ricardo Jorge, being the second university institution at national level to be certified, and licensed by the Health Regulatory Authority.
Diagnostic tests

Number of diagnostic tests performed (1 May - 15 June 2020): 2670
Current maximum capacity: 400 diagnostic tests per day

The samples come from various public and private entities, operating in the health, education and economy sectors, whose request for analysis is issued by entities associated with the Ministry of Health or other Ministries that establish partnership protocols with the Faculty.

Partners:
Several Public and Private Health Institutions.
Safety:
All safety conditions are ensured for the community of the Faculdade de Ciências:
Direct biological sampling is not performed at CT Ciências ULisboa, although its certification would allow it; at CT Ciências ULisboa only samples previously collected by health professionals in hospitals or clinics are received;
Specific signage has been installed on campus so that biological samples immediately enter Tec Labs, not circulating through other buildings;
The biological samples enter directly from the outside into a new biological safety room, installed in the Tec Labs support building, where the inactivation and extraction of RNA from the virus is carried out, with the adaptation of the space for this purpose and the acquisition of a biological containment infrastructure in accordance with the World Health Organization's biological risk safety level 3.
Coordination: Ricardo Dias.
Technical Direction: Margarida Gama Carvalho.
CT Ciências ULisboa Contact: fightcovid@ciencias.ulisboa.pt.
#juntossomosmaisfortes