ULisboa Catalogue
Access to the University of Lisbon's bibliographical catalogue.
FCUL and IDL Catalogue
Access to the bibliographical catalogue of the FCUL and IDL libraries.
Repository of the University of Lisbon
Access to the repository of the University of Lisbon.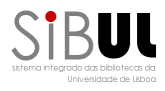 SIBUL (available until 30 September 2021) - Integrated System of the University of Lisbon Libraries (former UL) - was created to coordinate and maximise the bibliographic and electronic resources of the University's documental units, so as to be able to expand and improve upon the services offered to the academic community, whilst respecting the autonomy of participating libraries and the service commitments undertaken by them.