The Higher Education Students with Disabilities Work Group (GTAEDES) has organised a series of actions to improve the conditions and participation of disabled students in higher education. One such project was BAES - the Open Library of Higher Education.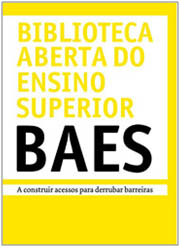 BAES is a virtual library, where you may find the entire e-document collection that Portuguese higher education institutions have been assembling over the past years. The project of "creating access to bring down barriers" uploads documentation from all member institutions to the internet, granting any student belonging to an institution that has joined this protocol access to this online information. BAES is a project funded by POS-Conhecimento.
What is the Open Library of Higher Education?
It is a library with online contents (http://baes.up.pt). It results from a partnership between nine state-owned higher education institutions and articulates three broad areas: the production, access and sharing of information.
What are the Open Library's contents?
The Open Library has a collection of over 3,000 titles in braille, audio and full text formats. BAES is an ongoing project. Currently, you may find contents in the field of the Social and Human Sciences. Our short-term goal is to encompass Mathematics, Music and Chemistry; and to increase the number of titles in these key fields. Our mid-term goal is to introduce new fields of knowledge.
Production of information
Boasting properly-equipped production units, we are working to increment our production (e.g. study materials) and diversify the available formats, at the same time that we extend our production to cover new fields of knowledge.
Access to information
Each institution has new access points to information, granting users access not only to BAES but to other specific resources too (bibliographic and multimedia).
Sharing of information
We collect and share content online, granting users direct access to full texts.
How may I access this information?
Since BAES is dedicated to students with Special Educational Needs, those interested in accessing these materials must apply at a member Faculty for credentials. Because we upload the full version of texts on our website, this is a means of protecting copyrights, which apply differently in the case of students with Special Educational Needs.
Member contacts
U. Porto: saed@letras.up.pt | UTAD: certic@utad.pt | U. Minho: gaed@reitoria.up.pt | U. Aveiro: difusao@doc.ua.pt | U. Coimbra: atped@dtp.uc.pt | U. Lisboa: div.alunos@reitoria.ul.pt | FLUL: saa@fl.ul.pt | FCUL: gapsi@sa.fc.ul.pt | U. Évora: nae@uevora.pt